Electrical heat tracing combination shower &eye wash WJH0658
● Internal Material: SS304
● External Material: ABS Removable Shell
● Installation characteristic: With heat preservation and anti-freezing function, equipped with constant
thermostatic heating cable and temperature control system
● Usage : drenching body and rinsing faces / eyes can be operated separately or simultaneously
● Explosive-proof grade: EXD‖BT4 / EXD‖BT6 / EXD‖CT4 / ECD‖CT6 (Customizable)
● Protection grade: IP55 / IP65(Customizable)
● Switch ball valve: SS304 ball valve
● Eyewash bowl features : 300 mm in diameter, vertical bowl-wall design, allows better water collecting and
anti-splashing
● Nominal pressure: 1.0Mpa
● Working pressure: 0.2-0.4 Mpa
● Testing pressure: 1.5 Mpa
● Flow rate of body shower : ≥76 L/min
● Flow rate of eye/face wash : ≥11.4 L/min
● Flow rate of eye wash : ≥1.5 L/min
● Inlet thread: Rp 1″
● Outlet thread: G1″
● Inlet height: 1230mm
● Outlet height: 100mm
● Water temperature of pipeline: 15°C~ 30°C
★ Notes : The inlet part and outlet part are customizable;shut off valve and filter are proposed to be equipped
on the water-supply end.
★ Optional: Sound and light alarm, explosion-proof lamp, pedal device, dust proof device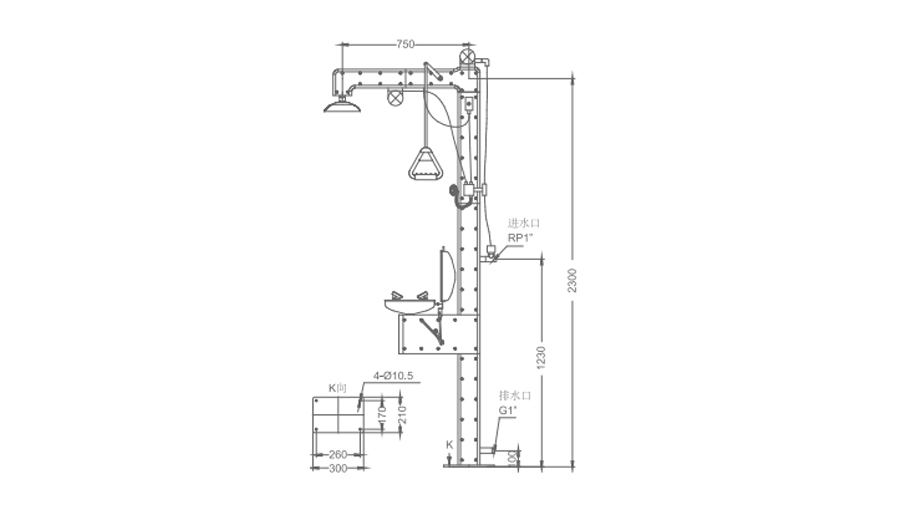 ● Product Feature:
1. Electrical heat tracing combination shower &eye wash,specially designed for cold weather in northern .The
inlet is equipped with a flow alarm valve.
2. Once a user operate the eye wash, the audible and visual alarm will start to work, not only to inform others
that someone is operating here, but also to request assistance.
3. The used water will be drained directly from the inner leaking pipe of the bowl, which will not pollute the
use space and is simple and convenient.