Anti-freezing emergency shower & eye washWJH0758
Parameters
● Material: SS304
● Surface finishing : fine-polished,high gloss epoxy powder coating
● Features : the"Union" allows easier pipe connection and disconnection
● Usage :Shower+Eyewash+Automatic emptying
● Appropriate area:Low cold areas in the North
● Switch ball valve: SS304 ball valve
● Shower head : spinning-formed with curled rim, diameter 250 mm
● Pipe diameter: 48mm
● Eyewash bowl features : 300 mm in diameter, vertical bowl-wall design, allows better water collecting and anti-splashing
● Dust cover : integrated with the spray head ( not connected by chain )
● Spray head feature : patented design, each spray head equips with one water-flow control valve
● Inlet thread : Rp1-¼"
● Outlet thread:G1″
● Inlet height: 105mm
● Outlet height:105mm
● Distance between spray head:170mm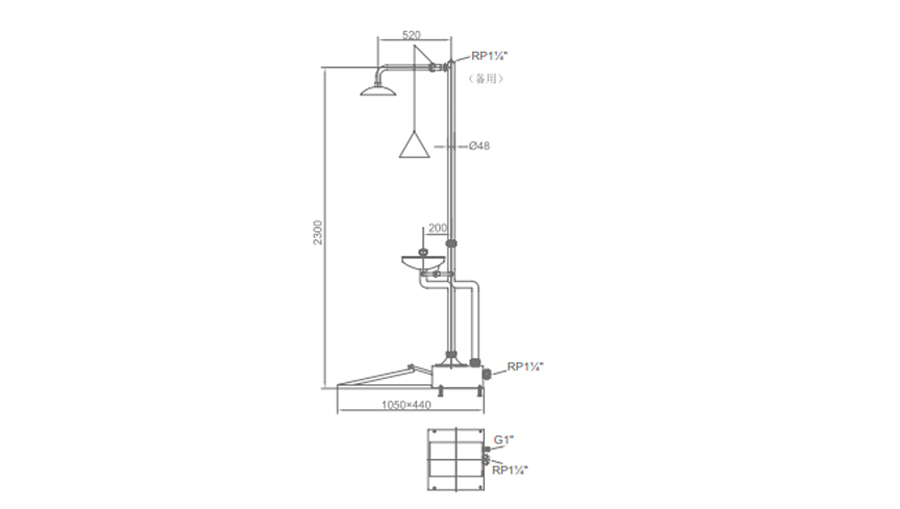 ★ Notes :
1.The inlet part and outlet part are customizable;shut off valve and filter are proposed to be equipped on the water-supply end;
2.This eye wash is an automatic emptying e,method of operation: ① The person stands on the foot pedal of the eye wash, pushes
away the hand push board, and pulls the lever downward 90°, the eye wash automatically gives water. ② After use, hand push
board, dust cover and pull rod are reset. ③ When the person leaves the foot pedal, the outlet valve closes automatically, at the
same time it can directly empty the accumulated water in the entire eyewash system pipeline to prevent freezing and ensure the
normal use of the eyewash in freezing weather.No need to do the second emptying valve action, convenient and fast.