Vertical emergency eye wash WJH0759A
● Materials:Stainless Steel common and ABS
● Surface finishing:High brightness epoxy coating
● Function:eye and face washing
● Switching ball valve: two-piece ball valve
● Pipe diameter: 42mm
● Nominal pressure: 1.0Mpa
● Working pressure: 0.2~0.4Mpa
● Test pressure: 1.5Mpa
● Working environment temperature: 0°C~40°c
● Eye wash/face wash water flow: ≥11.4 L/min
● Flow of eye wash: ≥1.5 L/min
● Eye wash bowl: 250mm ABS engineering plastic
● Dust cover: integrated design of main body, not easy to lose
● Inner size:G1/2" male
● Outlet size:Rp1" female
● Inlet height: 758mm
● Outlet height: 130mm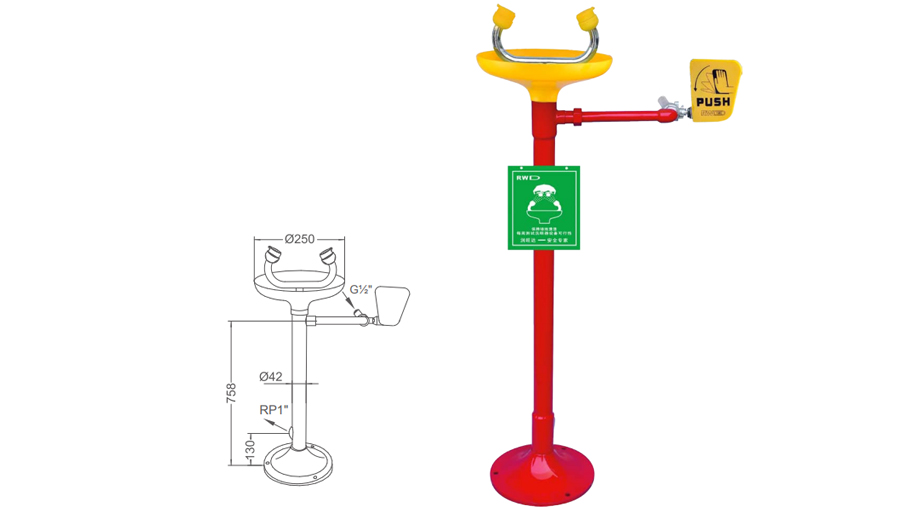 ★ Product features:After the use of eye wash and face wash is stopped, the water in the pipeline will be
drained automatically to achieve the purpose of anti-freezing.
★ Notes : The inlet part and outlet part are customizable;shut off valve and filter are proposed
to be equipped on the water-supply end. Stainless steel foot treadle can be added to
control the eye wash switch.