● Material : polyethylene (PE)
● Function: shower + eye wash
● Features: rechargeable mobile
● Volume: 20L
●Working pressure: 0.2 ~ 0.4Mpa
● Usage time: ≥ 15min
●Water usage temperature: 0°C ~ 40°C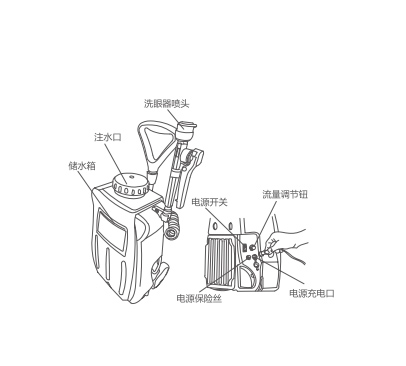 ● Features:
① It has a mobile wheel and a water storage tank, free of pipeline installation, and the length of the rod can be adjusted according to the height of the human body.
② Enlarged the water injection port for easy water injection, and there are 2 filters
③ The handle of the eye wash switch valve imitates the human hand shape design, with good hand feeling and flexible operation. Can be hung on the rack when not in use.
④ Special charger, using intelligent three-stage charging (constant current / constantvoltage / maintenance), with short circuit / over current / reverse connection protection function,
The charger indicator shows: red-charging, green-full / standby
★ Notes: The water stored in the tank needs to be replaced regularly, and the replacement period is 7 days